Shopping for the perfect pair of jeans can be a struggle, but with products that feel good and fit great, a.n. designs makes it easy. Whether it's a pair of cut-off skinny jeans or super soft corduroy pants, we guarantee you'll get quality clothing that will remain a staple in your wardrobe for years to come. Just ask some of our favorite digital influencers!
Check out Meghan Wainright. She's a life and style blogger living in Chicago who does fashion RIGHT. Believe us, her Instagram, @theblondeinpink, is EVERYTHING. She sported a pair of our navy corduroys not too long ago and absolutely rocked them. Not to brag, but she described them on her blog as being "some of THE most flattering pants [she's] ever worn in [her] life."
Meghan Wainwright | Instagram: @theblondeinpink | Blog: www.meghanwainwright.com | Location: Chicago
Meet Julie. She's a mom, wife, and total fashion guru. Her Instagram, @butfirst.rose, is amazing. During the fall, she discovered our straight ankle with a step pants and claimed them as her new favorite jeans. We're also obsessed with her fabulous pairing of strappy sandal slip-ons (say that five times fast!) and our V-cut denim!
Julie | Instagram: @butfirst.rose
NY style blogger @simplygailg is another one of our favorite influencers who loves our products. She's previously said our jeans fit her like a glove, and we definitely agree! Gail's combination of our cut-off jeans and red classic cardigan is absolutely flawless.
Gail G. | Instagram: @simplygailg | Blog: www.simplygailg.com | Location: New York City
Jess, a.k.a. @mustheartstyle, is a Cali girl (represent!!) whose style we most definitely heart. And based on some of her posts, she hearts our style too! Jess has previously raved about our V-cut denim and distressed skinny jeans, describing them as "soooo comfortable, [she] could probably sleep in them."
Jess | Instagram: @mustheartstyle | Blog: www.mustheartstyle.com | Location: California
Emily Reeves, @emilyreevesxoxo, thanked us for making her feel "oh-so-cozy and simultaneously glam" in our star skinny jeans. We're here to say thank YOU for looking oh-so fabulous in our denim!
Emily Reeves | Instagram: @emilyreevesxoxo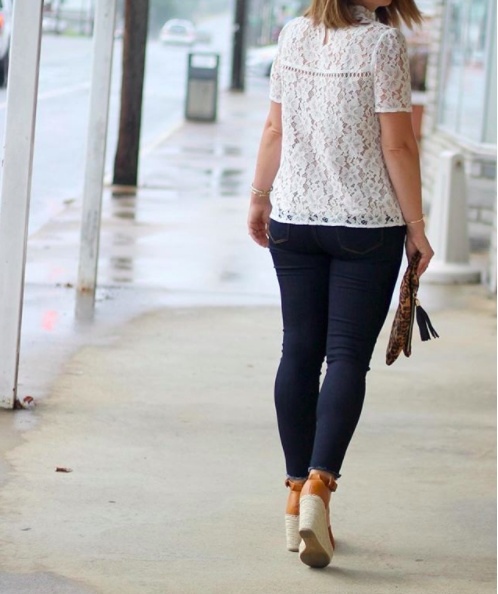 We love @emily_soto! She's a wife, mom, teacher, and style blogger. After a day of wearing a.n. designs skinny jeans, she declared herself "queen of jeans," and we're totally here for it. She's posted multiple OOTDs wearing a pair of our denim, proving just how versatile a.n. design jeans truly are.
Emily Soto | Instagram: @emily_soto | Blog: www.withstyleandgrace.net | Location: North Carolina